Viettel Post – The only logistics enterprise in the top 10 GOLD STARS AWARD of Vietnam 2021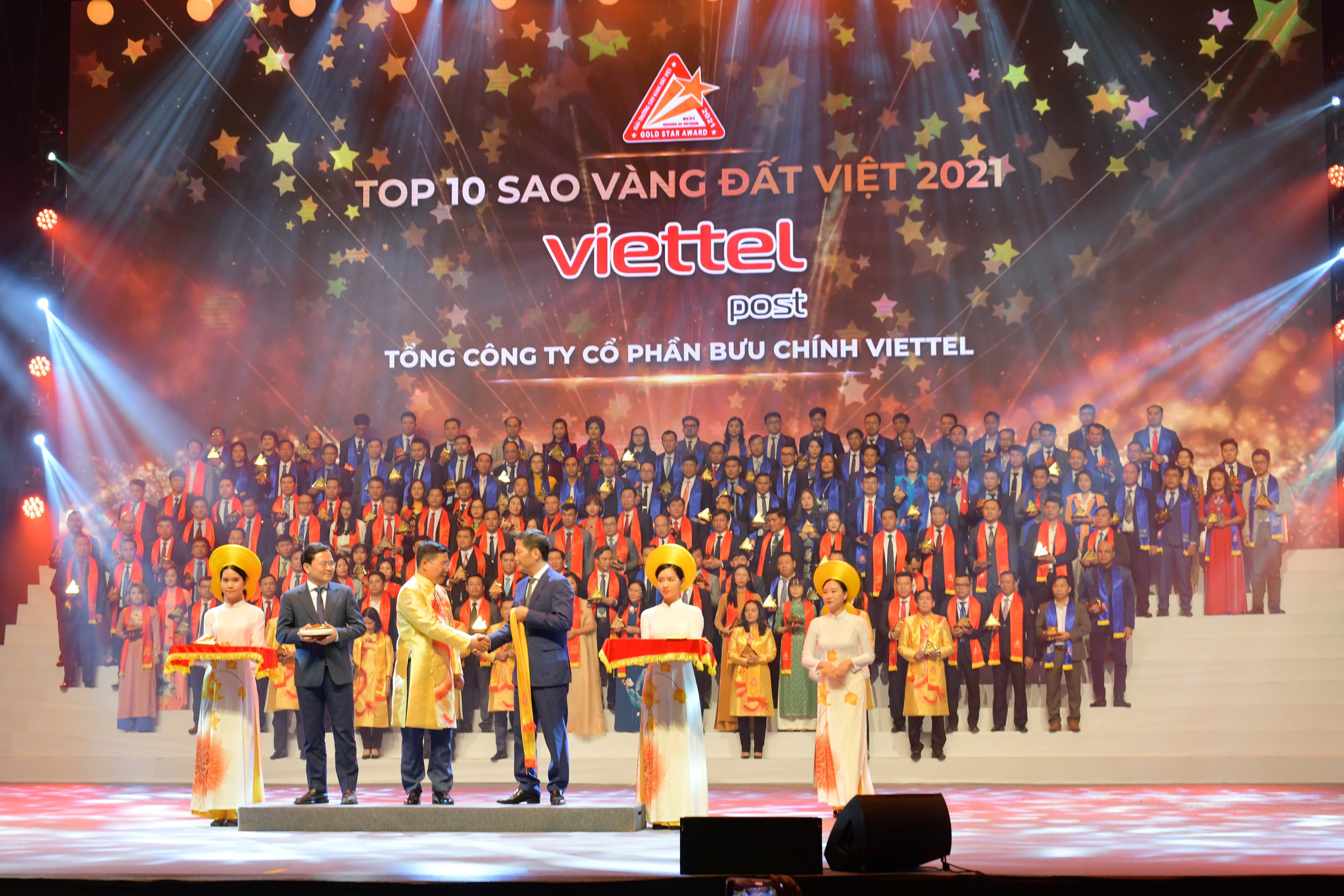 With this title, Viettel Post has proved its enterprise bravery, ready to face challenges for business growth, innovation, and application of digital technology in management and administration activities to overcome challenges. negative impacts from the Covid-19 epidemic.
On the evening of March 30, at the National Convention Center, the Vietnam Young Entrepreneurs Association organized the awarding of the Vietnam Gold Star 2021 award for 200 businesses, including Viettel Post Corporation (Viettel Post). This year is the 4th time Viettel Post has been honored with the Vietnam Gold Star Award, also the first time entered the TOP 10.
To receive this title, to be recognized by experts and society as a typical national enterprise, representing Vietnam in the international arena, Viettel Post has undergone a process of continuous development throughout 25 years of operation. Even the 2-year period when the economy was submerged in the Covid-19 pandemic did not stop Viettel Post from moving forward, always being one of the logistics enterprises with a stable growth rate.
According to the just-released 2021 financial report, Viettel Post recorded consolidated revenue of VND21.452 billion, up to 24% over the same period, and profit after tax of VND295.89 billion. Revenue from core delivery services alone increased by 9%, despite social distancing regulations in many localities for many months. To achieve this achievement, Viettel Post has been constantly digitalizing, flexibly adapting to all fluctuations of the social situation.
As a logistics enterprise with the responsibility of protecting the supply chain of essential goods and ensuring social security, Viettel Post has overcome challenges, optimizing transit time even in epidemic areas. Despite all difficulties, providing optimal service to customers has become Viettel Post's top priority, by building response scenarios, protecting the operating system and personnel, organizing Organized business programs such as "join hands to consume agricultural products – food", "go to market for households", which have partly joined the country in epidemic prevention, which is highly appreciated by the government and local people.
Thanks to relentless dedication, Viettel Post has been recognized by partners, customers, and the whole society with a series of awards such as: 1st place in the Top 5 prestigious Logistics Companies – Express delivery, delivery industry group last mile – for 3 consecutive years; Viettel Post won the IBA International Business Award for the third time in a row. In addition, Viettel Post also received many prestigious awards in the country such as 100% of the nominations won the title Sao Khue, TOP 10 IT enterprises, TOP 10 Listed enterprises with the best management capacity in 2021. … And most recently, the TOP 10 title of Vietnam Gold Star 2021.
In an interview at the ceremony, Deputy General Director of Viettel Post Dinh Thanh Son said: "The title of "Vietnamese Gold Star" has recognized the potential of Viettel Post in the field of logistics in particular and the national economy in general. affirming the position of Viettel Post in the domestic as well as international market. As a military enterprise, we will promote the spirit of a "Vietnamese Gold Star", and will always strive to always be the leading bird of the national Logistics industry."